UKIA conference July 2022
Building resilience and sustainability in irrigated agriculture
Is water for food still the 'missing link' in water resources planning?
Chair person: Kelly Hewson-Fisher NFU National Specialist- Water resources
Lord De Ramsey: will open the conference with a farmer/countryman's perspective of current water issues, challenges facing the irrigation sector, and his thoughts on the long term. Download
Anne Dacey Environment Agency Deputy Director Water Management and Investment: will present the water resources challenges that face England and how the Refreshed National Framework, as part of future planning and new regulation, is looking to ensure water for food and the environment. Download
Harri Condie 'Water for Tomorrow': will discuss progress on EU-funded Interreg project with France on the team's work to help improve how local areas mitigate and adapt to increased water scarcity and drought. The project sets out to develop and test innovative water resources management tools and decision-making support systems. Download
Steve Moncaster principal water consultant Cator & Co: believes that working together, through abstractor groups will be an essential part of securing water for food production.  WAGs need to move on to a strong business footing to have impact and influence future
water planning and allocations. Download
Arjan Janknegt, Rivulis Ltd, The Netherlands: specialises in designing and installing precision
irrigation systems for both field and protected cropping across Europe and the Mediterranean.  Based on his experience, Arjan  will assess the future of precision irrigation in an era of water scarcity. Download
Special international guest Olcay Unver: is Professor of Practice at Arizona State
University and previously led UN FAO's water programmes and activities.  He will offer his unique view of the state of world's land and water resources for food production.  FAO, not known for hyperbolae, currently describes land and water as 'systems at breaking point'.  What options do we have to ensure a resilient and sustainable future? for agriculture? Download
Ceris Jones NFU climate change adviser: Climate resilience is inseparable from water
resilience.  Ceris is the NFU's climate change advisor and she will discuss the challenges that climate change is likely to bring to UK agriculture and also to global food production on which UK depends for almost half of our food.  Presentation not available.
Jack Beard, FutureWater The Netherlands: is with a leading Dutch consultancy working at the forefront of water management. Jack will discuss projects in the UK, the Netherlands and Spain which have helped build resilience and mitigate risks associated to water scarcity. Download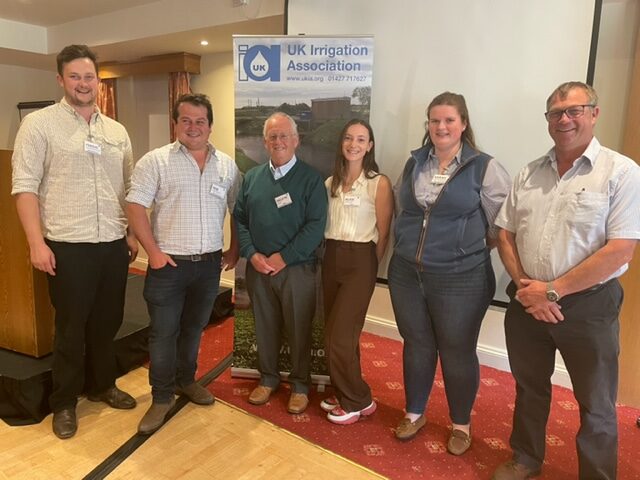 U35s guests attending our conference for the first time thanks to Grimme Ltd and Wrootwater Ltd