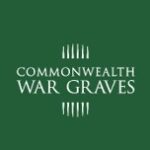 Commonwealth War Graves Commission
The Commonwealth War Graves Commission honours and cares for 1.7 million men and women of the Commonwealth who died in the First and Second World Wars in perpetuity, ensuring they will never be forgotten. Funded by six Member Governments, our work began more than a century ago and we now commemorate the fallen at 23,000 locations all over the world.
Today, over a century after we first began, our work continues through our staff, supporters and volunteers who preserve our unique cultural, horticultural, and architectural heritage and ensure that the stories of those who died are told. Since our establishment, we have constructed 2,500 unique war cemeteries and have erected headstones over more than a million burials at other military and civil sites across the world. For individuals who have no known grave, we have built memorials to the missing as places of commemoration. 
With a global commitment in more than 150 countries and territories, and a significant and complex historical horticultural estate, the CWGC is one of the world's leading horticultural organisations with an enviable track record of innovation and expertise. More than half of the 800 Ha of land under the Commission's control consists of fine horticulture, making maintenance a year-round task for our 900 gardeners. Irrigation, in its many forms plays a big part in delivering a consistently high quality of care in many of our sites and we manage 180 irrigated landscapes in 37 countries. Sustainability is at the heart of how we aspire to manage our horticultural commitment and careful stewardship of the water resources we manage is a key strategic objective.
822 total views, 1 views today